Pitts Special Briefing Models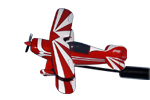 Pitts Special Briefing Stick Model
The Pitts Special (company designations S1 and S2) is a series of light aerobatic biplanes designed by Curtis Pitts. It has accumulated many competition wins since its first flight in 1944. The Pitts biplanes dominated world aerobatic competition in the 1960s and 1970s and, even today, remain a potent competition aircraft in the lower categories.
Customize and personalize this briefing model any way you want, your choice of paint scheme and unit markings.
Manufacture and shipping time are usually 8 to 10 weeks. However, we also offer a RUSH Service of 4 or less weeks, for an additional 35%. E-MAIL US for the Rush Service.
Briefing Model Length: 6 Inches
Briefing Stick Size: 18" x 3/8", 15" x 3/8" or 12" x 3/8"
Remember we offer a money back guarantee, if you are not totally convinced you have purchased the most accurate and highly detailed model available... Christopher D. Jones, Owner, Island Enterprises