S-3 Viking Model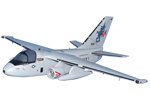 S-3 Viking Wooden Model
The Lockheed S-3 Viking is a four-seat, twin-engine turbofan-powered jet aircraft that was used by the U.S. Navy to identify and track enemy submarines. In the late 1990s, the S-3B's mission focus shifted to surface warfare and aerial refueling. The Viking also provided electronic warfare and surface surveillance capabilities to the carrier battle group. A carrier-based, subsonic, all-weather, multi-mission aircraft with long range; it carried automated weapon systems, and was capable of extended missions with in-flight refueling. Because of the Viking's engines' low-pitched sound, it was nicknamed the "Hoover" after the vacuum cleaner brand.
This model will be customized with your choice of paint scheme, unit markings, name(s) on model, ordnance and carved/painted logo and text on base. Manufacture and shipping time are usually 8 to 10 weeks. However, we also offer a RUSH Service of 4 or less weeks, for an additional 35%. E-MAIL US for the Rush Service.
Prices are discounted 10% to 20% for Group/Multiple Orders, depending on the order quantity.
Remember we offer a money back guarantee, if you are not totally convinced you have purchased the most accurate and highly detailed model available... Christopher D. Jones, Owner, Island Enterprises