MC-130J Commando II Model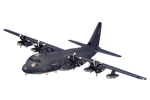 MC-130J Commando II Wooden Model
The MC-130J Commando II multi-mission combat transport/special operations tanker, assigned to the Air Force Special Operations Command (AFSOC), delivers increased combat performance to the war fighter with its more powerful engines and unique features. As it replaces the older MC-130E/H Combat Talon I/II and MC-130P Combat Shadow II aircraft, the MC-130J provides AFSOC with a modern aircraft capable of worldwide employment for missions requiring clandestine single- or multi-ship low-level aerial refueling of Special Operation Force vertical and tilt-rotor aircraft and/or infiltration, resupply and exfiltration by airdrop, or landing on remote airfields.
This model will be customized with your choice of paint scheme, unit markings, name(s) on model, ordnance and carved/painted logo and text on base. Manufacture and shipping time are usually 8 to 10 weeks. However, we also offer a RUSH Service of 4 or less weeks, for an additional 35%. E-MAIL US for the Rush Service.
Prices are discounted 10% to 20% for Group/Multiple Orders, depending on the order quantity.
Remember we offer a money back guarantee, if you are not totally convinced you have purchased the most accurate and highly detailed model available... Christopher D. Jones, Owner, Island Enterprises.