KC-135 Stratotanker Briefing Model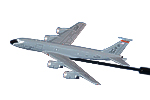 KC-135 Stratotanker Briefing Stick Model
The KC-135 Stratotanker's principal mission is air refueling. This unique asset greatly enhances the Air Force's capability to accomplish its primary missions of Global Reach and Global Power. It also provides aerial refueling support to Air Force, Navy and Marine Corps aircraft as well as aircraft of allied nations.
Customize and personalize this briefing model any way you want, your choice of paint scheme and unit markings.
Manufacture and shipping time are usually 8 to 10 weeks. However, we also offer a RUSH Service of 4 or less weeks, for an additional 35%. E-MAIL US for the Rush Service.
Briefing Model Length: 6 Inches
Briefing Stick Size: 18" x 3/8", 15" x 3/8" or 12" x 3/8"