MC-130P Combat Shadow Briefing Model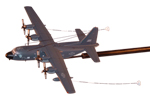 MC-130P Combat Shadow Briefing Stick Model
The MC-130P (formerly the HC-130P/N) Combat Shadow flies clandestine or low visibility, low-level missions into politically sensitive or hostile territory to provide air refueling for special operations helicopters. The MC-130P primarily flies its single- or multi-ship missions at night to reduce detection and intercept by airborne threats. Secondary mission capabilities include airdrop of small special operations teams, small bundles, and zodiac and combat rubber raiding craft; as well as night-vision goggle takeoffs and landings, tactical airborne radar approaches and in-flight refueling as a receiver.
Customize and personalize this briefing model any way you want, your choice of paint scheme and unit markings.
Manufacture and shipping time are usually 8 to 10 weeks. However, we also offer a RUSH Service of 4 or less weeks, for an additional 35%. E-MAIL US for the Rush Service.
Briefing Model Length: 6 Inches
Briefing Stick Size: 18" x 3/8", 15" x 3/8" or 12" x 3/8"