MiG-17 Fresco Briefing Models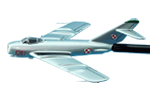 MiG-17 Fresco Briefing Stick Model
The Soviet MiG-17 fighter was designed to be more stable than its predecessor, the MiG-15. When it first appeared Western analysts gave it the Allied codename "Fresco-A" and thought it to be nothing more than a lengthened MiG-15. It was, in fact a new design that improved on the problems found in earlier designs.
Customize and personalize this briefing model any way you want, your choice of paint scheme and unit markings.
Manufacture and shipping time are usually 8 to 10 weeks. However, we also offer a RUSH Service of 4 or less weeks, for an additional 35%. E-MAIL US for the Rush Service.
Briefing Model Length: 6 Inches
Briefing Stick Size: 18" x 3/8", 15" x 3/8" or 12" x 3/8"
Remember we offer a money back guarantee, if you are not totally convinced