TH-67 Briefing Model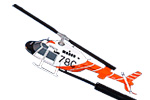 TH-67 Briefing Stick Model
he TH-67 is a family of two-bladed, single- or twin-engine helicopters, manufactured by Bell Helicopter at its Mirabel, Quebec plant. Originally developed as the Bell YOH-4 for the United States Army's Light Observation Helicopter program, the 206 failed to be selected. Bell redesigned the airframe and successfully marketed the aircraft commercially as the five-place Bell 206A JetRanger. The new design was eventually selected by the Army as the OH-58 Kiowa. Bell also developed a seven-place LongRanger, which was later offered with a twin-engine option as the TwinRanger, while Tridair Helicopters offers a similar conversion of the LongRanger called the Gemini ST. TheICAO-assigned model designation "B06" is used on flight plans for the JetRanger and LongRanger, and the designation "B06T" is used for the twin-engine TwinRangers.
Customize and personalize this briefing model any way you want, your choice of paint scheme and unit markings.
Manufacture and shipping time are usually 8 to 10 weeks. However, we also offer a RUSH Service of 4 or less weeks, for an additional 35%. E-MAIL US for the Rush Service.
Briefing Model Length: 6 Inches
Briefing Stick Size: 18" x 3/8", 15" x 3/8" or 12" x 3/8"
Remember we offer a money back guarantee, if you are not totally convinced you've bought the most accurate and highly detailed briefing stick available on the market!!!