AH-6 Boeing Briefing model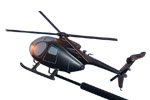 AH-6 Boeing Briefing Stick Model
The Boeing AH-6 is a series of light helicopter gunships based on the MH-6 Little Bird and MD 500 family. Developed by Boeing Rotorcraft Systems, these include the Unmanned Little Bird (ULB) demonstrator, the A/MH-6X Mission Enhanced Little Bird (MELB), and the proposed AH-6I and AH-6S.
Customize and personalize this briefing model any way you want, your choice of paint scheme and unit markings.
Manufacture and shipping time are usually 8 to 10 weeks. However, we also offer a RUSH Service of 4 or less weeks, for an additional 35%. E-MAIL US for the Rush Service.
Briefing Model Length: 6 Inches
Briefing Stick Size: 18" x 3/8", 15" x 3/8" or 12" x 3/8"
Remember we offer a money back guarantee, if you are not totally convinced you've bought the most accurate and highly detailed briefing stick available on the market!!!