F-7 Chengdu Briefing Model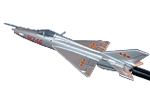 F-7 Chengdu Briefing Stick Model
The Chengdu Jian-7 (export versions F-7) is a People's Republic of China license built version[1] of the Soviet Mikoyan-Gurevich MiG-21. Though production ceased in 2008, it continues to serve, mostly as an interceptor, in several air forces, including China's.
Customize and personalize this briefing model any way you want, your choice of paint scheme and unit markings.
Manufacture and shipping time are usually 8 to 10 weeks. However, we also offer a RUSH Service of 4 or less weeks, for an additional 35%. E-MAIL US for the Rush Service.
Briefing Model Length: 6 Inches
Briefing Stick Size: 18" x 3/8", 15" x 3/8" or 12" x 3/8"
Remember we offer a money back guarantee, if you are not totally convinced