F-10 Chengdu Briefing Model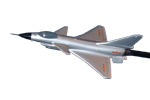 F-10 Chengdu Briefing Stick Model
The Chengdu J-10 is a multirole fighter aircraft designed and produced by the People's Republic of China's Chengdu Aircraft Industry Corporation (CAC) for the People's Liberation Army Air Force (PLAAF). Known in the West as the "Vigorous Dragon",[7] the J-10 is a multirole combat aircraft capable of all-weather operation.
Customize and personalize this briefing model any way you want, your choice of paint scheme and unit markings.
Manufacture and shipping time are usually 8 to 10 weeks. However, we also offer a RUSH Service of 4 or less weeks, for an additional 35%. E-MAIL US for the Rush Service.
Briefing Model Length: 6 Inches
Briefing Stick Size: 18" x 3/8", 15" x 3/8" or 12" x 3/8"
Remember we offer a money back guarantee, if you are not totally convinced