F-1 Dassault Mirage Briefing Model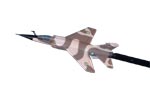 F-1 Dassault Mirage Briefing Stick Model
The Dassault Mirage F-1 is a French air-superiority fighter and attack aircraft designed and built by Dassault Aviation as a successor of the Mirage III family. The Mirage F1 entered service in the French Air Force (Armée de l'Air) in the early seventies. Powered by a single SNECMA Atar turbojet providing about 7 tonnes-force (69 kN; 15,000 lbf) of thrust, the F1 has been used as a light multipurpose fighter and has been exported to about a dozen nations. More than 700 F1s have been produced.
Customize and personalize this briefing model any way you want, your choice of paint scheme and unit markings.
Manufacture and shipping time are usually 8 to 10 weeks. However, we also offer a RUSH Service of 4 or less weeks, for an additional 35%. E-MAIL US for the Rush Service.
Briefing Model Length: 6 Inches
Briefing Stick Size: 18" x 3/8", 15" x 3/8" or 12" x 3/8"
Remember we offer a money back guarantee, if you are not totally convinced