Southwest Airlines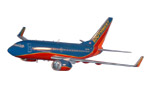 Southwest Wooden Model
The Southwest Airlines is is the world's largest low-cost carrier headquartered in Dallas, Texas, USA. The airline was established in 1967 adopting its current name in 1971. Classified as a major carrier, it carries the most domestic passengers of any U.S. airline as of June 5, 2011.
This model will be customized with your choice of paint scheme, unit markings, name(s) on model, ordnance and carved/painted logo and text on base. Manufacture and shipping time are usually 8 to 10 weeks. However, we also offer a RUSH Service of 4 or less weeks, for an additional 35%. E-MAIL US for the Rush Service.
Prices are discounted 10% to 20% for Group/Multiple Orders, depending on the order quantity.
Remember we offer a money back guarantee, if you are not totally convinced you have purchased the most accurate and highly detailed model available... Christopher D. Jones, Owner, Island Enterprises