F-35 Lightning II Briefing Model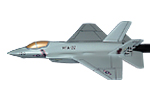 F-35 Lightning II Briefing Stick Model
The Lockheed Martin F-35 Lightning II is a family of single-seat, single-engine, fifth generation multirole fighters under development to perform ground attack, reconnaissance, and air defense missions with stealth capability.[6][7] The F-35 has three main models; the F-35A is a conventional takeoff and landing variant, the F-35B is a short take off and vertical-landing variant, and the F-35C is a carrier-based variant.
Customize and personalize this briefing model any way you want, your choice of paint scheme and unit markings.
Manufacture and shipping time are usually 8 to 10 weeks. However, we also offer a RUSH Service of 4 or less weeks, for an additional 35%. E-MAIL US for the Rush Service.
Briefing Model Length: 6 Inches
Briefing Stick Size: 18" x 3/8", 15" x 3/8" or 12" x 3/8"
Remember we offer a money back guarantee, if you are not totally convinced you have purchased the most accurate and highly detailed model available... Christopher D. Jones, Owner, Island Enterprises