T-2C Buckeye Model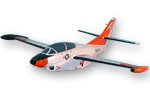 T-2C Buckeye Wooden Model
The T-2C Buckeye is a tandem-seat, carrier-capable, all purpose jet trainer whose mission is to train Navy and Marine Corps pilots and Naval Flight Officers. The T-2C is used for intermediate and advanced training for Navy and USMC pilots and NFOs in training for jet carrier aviation and tactical strike missions. For armament training, the aircraft is equipped with underwing strong points to carry bombs, rockets or gun pods, as well as an arresting hook for carrier landings. Originally designed with a single engine, the T-2C variant, which entered fleet service in 1968, has two. Most T-2Cs have been replaced by the T-45 Goshawk. Some, however, remain in service around the fleet in various roles, as well as at the Naval Test Pilots School at NAS Patuxent River, Maryland.
This model will be customized with your choice of paint scheme, unit markings, name(s) on model, ordnance and carved/painted logo and text on base. Manufacture and shipping time are usually 8 to 10 weeks. However, we also offer a RUSH Service of 4 or less weeks, for an additional 35%. E-MAIL US for the Rush Service.
Prices are discounted 10% to 20% for Group/Multiple Orders, depending on the order quantity.
we offer a money back guarantee, if you are not totally convinced you have purchased the most accurate and highly detailed model available... Christopher D. Jones, Owner, Island Enterprises