C-12J Huron Model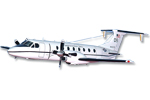 C-12J Huron Wooden Model
The C-12J Huron aircraft is the military version of the Raytheon Beech 1900C. The C-12J is the only test asset of its kind and provides unparalleled ability to conduct Global Positioning System and inertial navigation tests.
This model will be customized with your choice of paint scheme, unit markings, name(s) on model, ordnance and carved/painted logo and text on base. Manufacture and shipping time are usually 8 to 10 weeks. However, we also offer a RUSH Service of 4 or less weeks, for an additional 35%. E-MAIL US for the Rush Service.
Prices are discounted 10% to 20% for Group/Multiple Orders, depending on the order quantity.
Remember we offer a money back guarantee, if you are not totally convinced you have purchased the most accurate and highly detailed model available... Christopher D. Jones, Owner, Island Enterprises