CH-53E Super Stallion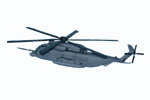 CH-53E Super Stallion Wooden Model
The Sikorsky CH-53E Super Stallion s the largest and heaviest helicopter in the United States military. It was developed from the CH-53 Sea Stallion, mainly by adding a third engine, a seventh blade to the main rotor and canting the tail rotor 20 degrees. Sailors commonly refer to the Super Stallion as the "Hurricane Maker" because of the downwash the helicopter generates. It was built by Sikorsky Aircraft for the United States Marine Corps. The less common MH-53E Sea Dragon fills the United States Navy's need for long range mine sweeping or Airborne Mine Countermeasures (AMCM) missions, and perform heavy-lift duties for the Navy. The CH-53E/MH-53E are designated "S-80" by Sikorsky. Currently under development is the CH-53K, which will be equipped with new engines, new composite rotor blades, and a wider cabin.
This model will be customized with your choice of paint scheme, unit markings, name(s) on model, ordnance and carved/painted logo and text on base. Manufacture and shipping time are usually 8 to 10 weeks. However, we also offer a RUSH Service of 4 or less weeks, for an additional 35%. E-MAIL US for the Rush Service.
Prices are discounted 10% to 20% for Group/Multiple Orders, depending on the order quantity.
Remember we offer a money back guarantee, if you are not totally convinced you have purchased the most accurate and highly detailed model available... Christopher D. Jones, Owner, Island Enterprises