Wings and Badges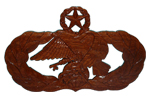 Wings & Badges

---
Our Wood Products are hand carved and finished, using kiln dried wood.
They are sealed with sanding sealer, followed by a coat of gloss lacquer, then a coat of Poly-urethane...to protect them from nicks and scratches.
These are warrantied against warping, cracking, or yellowing...or we will replace the product or refund your money. Selected the shade of stain you like, (light, medium or dark), from the chart on the order form.
We can make any badge, wing, or other image, in any size you want. Just E-MAIL US a photo.
Manufacture and shipping times usually takes 8 to 10 weeks. However, we also offer a RUSH Service of 4 or less weeks, for an additional 35%. E-MAIL US for the Rush Service.

Order one of the many different wings & badges we've made below, or upload a new badge or wing, in the First Time orders. We can make most badges or wings in any design, size and color your desire.

And remember, we offer a 100% money back guarantee if you are not totally satisfied you have bought the best product. A.C. Jones