Special / Custom Designs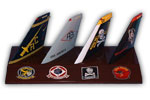 Special/Custom Designed Tail Flashes

---
Check out some of the special request projects we've done for our customers.
We can make any tail flash of any aircraft in any size, on any base and layout you wish. E-MAIL US for your designs.
Customize and personalize each tail flash with any paint scheme, unit markings and text you want and tail flashes are available in gloss, semi-gloss or flat finishes.
The tail flashes are made of the fines kiln dried hard wood available, guaranteed not to warp or crack.
Manufacture and shipping times are usually within 8 to 10 weeks. However, we also offer a RUSH service of 4 or less weeks, for an additional 35%. E-MAIL US for more information on the Rush Service.
And remember, all our products come with a 100% money back guarantee, if you are not happy with the products...AC Jones