Punch Bowls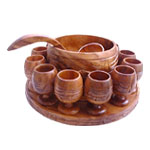 GOT SOME SPECIAL CONCOCTION YOU WANT TO SERVE UP AT THE NEXT HASH??? CHECK THIS OUT!!!

Get your Hash logo and name on the punch bowl and each cup.

These kegs and cups are hand carved and hand painted
They are sealed and guaranteed not to leak, or crack.
Set includes the Punchbowl and 12 cups
Additionally we offer a 100% money back guarantee if you are not happy with this product for any reason !!!