Wooden Keg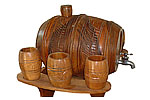 THESE KEGS ARE ACTUALLY OPERATIONAL!!! FILL THEM WITH YOUR FAVORITE BEVERAGE AND ENJOY!!!

We can carve and paint your Hash Logo and names on the keg and cups.

These kegs and cups are hand carved and hand painted

They are sealed and guaranteed not to leak, or crack.

We can complete most orders in 6 to 8 weeks. However, if you have a specific date you require your order, please let us know.  We also offer a rush service of 2 to 3 weeks, for an additional 25%.

Additionally we offer a 100% money back guarantee if you are not happy with this product for any reason !!!